Surfaces and Interfaces
The IF (InterFaces) beamline is dedicated to structural and applied studies in nanoscience and technologies  using the synchrotron radiation.
Materials can be studies ex situ or in situ (under high ultra vacuum, or controlled atmosphere, in air) during their elaboration & working processes or under various loadings (e.g.: thermal, mechanical, electrical).
3 INSTRUMENTS
Ultra-vacuum in situ nanostructures studies instrument
> Atomic structure, morphology and composition.
> Nano-structures : islands, particles, nanowires, graphene, 2D materials.
> Surfaces-interfaces : alloys, heterostructures, catalyse.
> Growth: Molecular-beam epitaxy, chemical vapor deposition.
The multi-techniques goniometer
> Interfaces solid/solid : adhesion, implantation, molecular sticking.
> Interfaces liquide/solide : microfluidics, surface alteration, Li-ion battery.
> Thin layers, properties-structure relationship in functional materials.
The microdiffraction Laue instrument
> Local orientation and deformation map with submicrometric resolution.
> 3D integration in micro-electronics.
> Control and reliability of materials for energy (nuclear and renewable).
> Biology-health materials.
> Mechanical tests on micro- and nano-objects.
THÉMATIQUES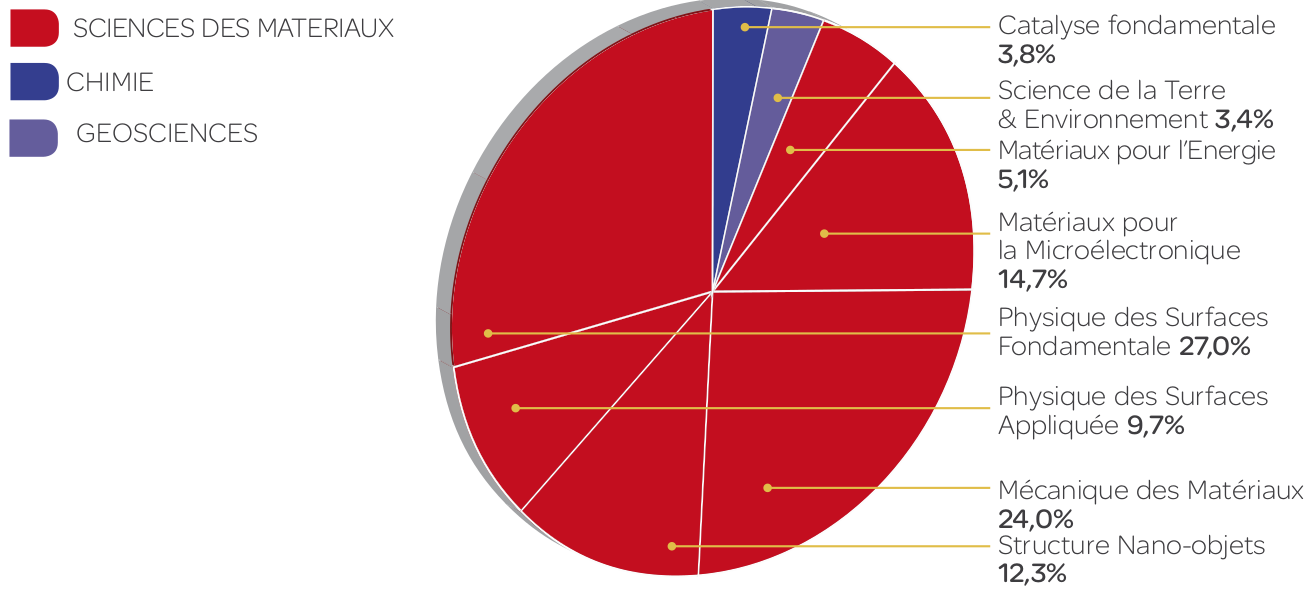 TECHNIQUES
> Diffraction, Scattering, in grazing incidence
> X reflectivity
> Laue Microdiffraction
USERS

BIBLIOMETRY
1996-2019:
377 publications since 1996 (Web of Science)
> H index : 41
> average citation number per article : 24.4
> More than 9000 citations
Key Publications (2010-2019)
> Elaboration of Nanomagnet Arrays: Organization and Magnetic Properties of Mass-Selected FePt Nanoparticles Deposited on Epitaxially Grown Graphene on Ir(111). P. Capiod et al. Physical Review Letters 122, no. 10 (2019): 106802.
> Tensile Strained Germanium Nanowires Measured by Photocurrent Spectroscopy and X-ray Microdiffraction Guilloy K. et al., Nano Letters 15, 2429–2433 (2015).
> Strains Induced by Point Defects in Graphene on a Metal. Blanc N., Jean F., Krasheninnikov A. V., Renaud G. & Coraux J., Physical Review Letters 111, (2013).
> Substrate-enhanced supercooling in AuSi eutectic droplets, Schuelli T. U. et al. Nature 464, 1174–1177 (2010).
> Core-Shell InGaN/GaN Multiple-Quantum-Wells on GaN Wires for Electroluminescent Devices, Koester R., et al., Nano Letters 11, 4839–4845 (2011).
Site of software LaueTools
www.sourceforge.net/projects/lauetools/