Surfaces et Interfaces
La ligne de lumière InterFaces (IF) mène des études structurales fondamentales et appliquées à l'aide du rayonnement synchrotron dans le domaine des nanosciences et des nanotechnologies.
Les matériaux sont étudiés ex situ ou in situ (ultra vide, atmosphère contrôlée, à l'air) durant leur élaboration, en cours de fonctionnement ou sous sollicitations diverses (ex : thermique, mécanique, électrique).
3 INSTRUMENTS
L'instrument d'étude des nanostructures in situ sous ultra-vide
> Structure atomique, morphologie et composition.
> Nanostructures : îlots, nanofils, graphène, matériaux 2D.
> Surfaces-interfaces : alliages, hétérostructures, catalyse.
> Croissance: épitaxie par jet moléculaire, dépôt chimique en phase vapeur.
Le goniomètre multitechnique
> Interfaces solide/solide : adhésion, implantation, collage moléculaire.
> Interfaces liquide/solide : microfluidique, altération de surface, batterie Li-ion.
> Couches minces, relation propriétés-structure dans les matériaux fonctionnels.
L'instrument de microdiffraction Laue
> Cartographie d'orientation et de déformation à l'échelle submicronique.
> Intégration 3D en microélectronique.
> Contrôle et fiabilité sur les matériaux pour l'énergie (nucléaire et renouvelable).
> Matériaux biologie-santé.
> Essais mécaniques sur micro- et nano-objets.
THÉMATIQUES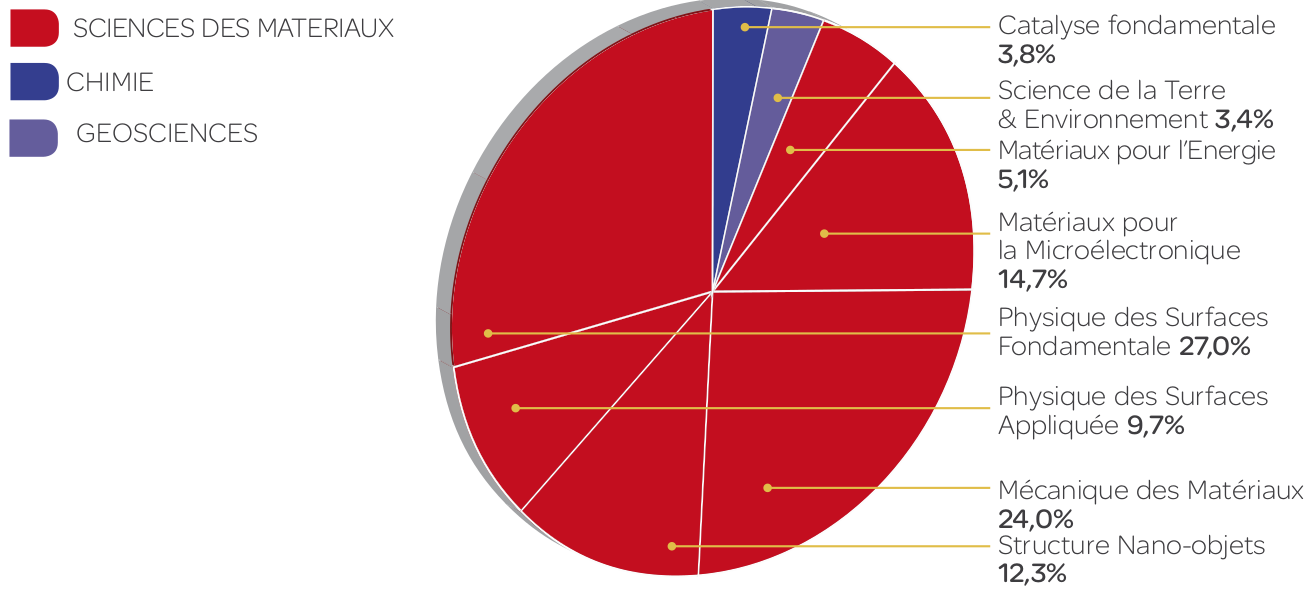 TECHNIQUES
> Diffraction, Diffusion, en incidence rasante
> Réflectivité X
> Microdiffraction de Laue
UTILISATEURS

BIBLIOMETRIE
285 publications depuis 1996
Période 2005-2015 :
> 182 publications
> H index : 35
> nombre moyen de citations par article : 20,9
> publications les plus citées dans leur domaine (Incites Essential Science Indicators) :
3 publications parmi les 1 % les plus citées,
13 % des publications parmi les 10 % les plus citées,
31 % des publications parmi les 20 % les plus citées.
Publications phare
> Expected and unexpected plastic behavior at the micron scale: An in situ micro Laue tensile study, Kirchlechner C. et al., Acta Materialia, 60, 1252–1258 (2012).
> Tensile Strained Germanium Nanowires Measured by Photocurrent Spectroscopy
and X-ray Microdiffraction Guilloy K. et al., Nano Letters 15, 2429–2433 (2015).
> Strains Induced by Point Defects in Graphene on a Metal. Blanc N., Jean F., Krasheninnikov A. V., Renaud G. & Coraux J., Physical Review Letters 111, (2013).
> Substrate-enhanced supercooling in AuSi eutectic droplets, Schuelli T. U. et al. Nature 464, 1174–1177 (2010).
> Core-Shell InGaN/GaN Multiple-Quantum-Wells on GaN Wires for Electroluminescent Devices, Koester R., et al., Nano Letters 11, 4839–4845 (2011).
Site du programme LaueTools
www.sourceforge.net/projects/lauetools/